Our Anniversary Auction is tomorrow!!! We are very, very excited!!! 
The staff has generously donated their time to the auction and we want to give all families a chance to bid on these special priceless items! Not only will this be a very special experience for your child, but an added benefit is that parents get a little time for themselves as well. Each staff member that donated will provide the experience describe for your child(ren) on a mutually agreeable date. (See descriptions below.)
The teachers and children have put an amazing amount of good work into their classroom projects and it shows! They are very beautiful works of art and they all have a story! (See photos and descriptions below.)
If you are not able to come to the auction in person, but still would like to bid on Teacher Time or one of the Classroom Projects, please email your bid to Janine (janine.willowschoolga@gmail.com) by 5:00 pm on Saturday, March 5. All minimum bids are $50. Some of these experiences will go for much more, so make your bid accordingly!! No bids will be accepted after 5:00 pm. 
Teacher Time Offerings
Parents Night Out! Max 10 Children
Teresa, Keli, and Janine will host 10 children at the Willow School while their parents have a night out on the town. We will have pizza, games, karaoke, and more! This package can also be used for a birthday celebration or other party event!
Pottery Fun with Ms. Ciara! Max 2 children
Enjoy an afternoon of painting and pottery with Ms. Ciara at All Fired Up.   Afterwards enjoy lunch at the restaurant next door.
High Museum and Lunch with Ms. Shannon – Max 1 child
Enjoy a morning with Ms. Shannon at The High Museum viewing the exhibit "I See a Story: The Art of Eric Carle."
Date Night! – Max 1 child
Ms. Carina will babysit your child in your home for 3 hours while parents have a date night out!
Pizza and a Movie with Mr. Jermaine- Max 2 children
2 students will spend the afternoon eating pizza and going to the movies with Mr. Jermaine.
Zoo Atlanta and Lunch with Ms. Teresa – Max 2 Children
2 friends will spend the morning with Ms. Teresa at Zoo Atlanta. Afterwards Teresa will treat the children to lunch at Dakota Blue.
Sewing with Ms. Jolese- Max 4 children
Ms. Jolese would like to invite some friends to learn how to sew.   After the fundamentals are covered, each child will create and design their own skirt.
Skateboard Exploration/Lessons with Mr. Louis- Max 1 child
Skateboard extraordinaire, Mr. Louis, is excited to share his passion for skateboard with you. Together you will embark various skateboard explorations. For the more advanced, Mr. Louis will offer a 2-hour lesson.
Outdoor Adventure with Ms. Julia- Max 8 people
Ms. Julia will take 2 families on an afternoon hike at one of her favorite parks. Sweet Water Creek Park is located in the New Manchester area of east Douglas County.
Peavine Creek Exploration Ms. Kate- Max 2 children
Ms. Kate and 2 friends will spend an afternoon exploring Peavine Creek.   They will explore the trails and search for treasures in the creek. Afterwards they will enjoy a picnic lunch.
Party Games by Ms. Amy
Mrs. Amy will provide 2 hours of kid party games at your event. Offer is valid for any age group. Ms. Amy will work with parents to decide what games will be appropriate.
Spa Day with Ms. Keli – Max 1 child
Mrs. Keli and a special friend will enjoy manicures and pedicures and her favorite salon, Lark and Sparrow.
Gardening and Planting Seeds with Ms. Jolees- Max 4 children
Join Ms. Jolees for a gardening and planting seeds project.   Together you will learn all about plants, as well as plant seeds of your choice to take home and nurture.   You will also plant seeds around The Willow School as the start off our Spring Garden.
Picnic in the Park with Ms. Lenoir- Max 1 child
Ms. Lenoir will spend a lovely afternoon playing and picnicking with 1 special friend.
Volunteer with Ms. Jolees- Max 2 children
Spend a Saturday morning volunteering at the library, Fernbank Museum, and a local garden with Ms. Jolees. When finished helping out, Ms. Jolees will treat the children to lunch.
Babysitting/Fun Time with Ms. Janine – Max 2 children
Bring your child or children to Janine's house for an afternoon or early evening of entertainment. Any age welcome.   Take some time to yourself and allow us to spend some time with your children!   (Janine has 2 teenagers.)
Classroom Projects
Infant Class – Bambini Lampadario (Childrens Chandelier)
Strung with nearly 300 individual egg carton pieces, this beautiful hanging mobile was painted with brushes and shaking sensory bottles by the children and teachers of our infant classroom. It features airy fading pastels stretching 2 feet wide and reaching 3 feet down. Lightweight and able to be broken down into 7 pieces, the "Bambini Lampadario" would make an amazing addition to any nursery, bedroom or playroom.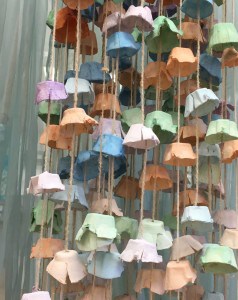 Ones Classroom – Collage di Mele (Apple Collage)
Inspired by the namesake of the one's classroom stuffed animal that has traveled to many of the children's homes, this apple collage was created using individual watercolor pieces painted by the children. The brushstrokes and flowing colors bring life and texture to this framed piece of art. The light colors and iconic image of the "Collage di Mele" would lighten the spirit in any room.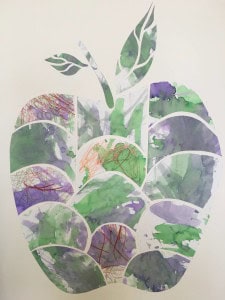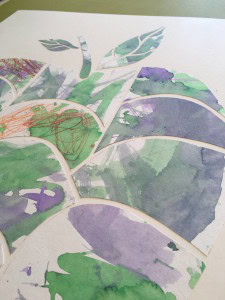 Twos – Albero Specchio (Mirror Tree)
Incorporating both natural and child-made beauty, this decorative hanging mirror was created through the children's process of block printing. It features individual designs from each child pressed in black ink onto wood slices, then arranged and mounted around a mirror. The "Albero Specchio" reflects the joy and wonder of childhood!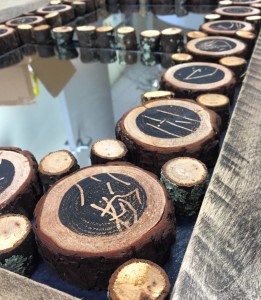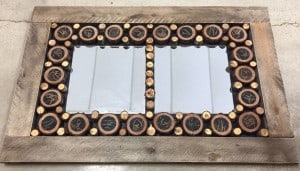 Preschool – Arte de Legno (Wood Art)
Created almost entirely from recycled and natural materials, this wood mosaic comes from humble beginnings as a discarded wood pallet. Sanded and cut into pieces, the preschool children used natural indigo, turmeric and beet dyes to stain the pieces, then arranged them into multiple designs, and finally used screwdrivers to assemble it within the frame. Filled with rustic charm and reminiscent of the magna-tiles that the children love the "Arte de Legno" delivers the spirit of geometry and symmetry.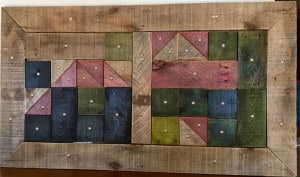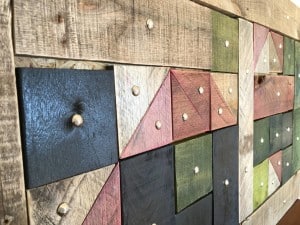 Pre-K – Gocce di Cera (Wax Dripping)
Inspired by the ephemeral artwork that has been a classroom focus, this multi-media scene was melted onto canvas, then adorned with bees and paper flowers. The paper flowers are sculpted out the amazing patterns that emerged from the children's drip paintings. The colorful and outstandingly unique "Gocce di Cera" is a bright and happy work of art and embodies the spirit of the children artists of the pre-k class!