In 2013 when Sam and Effy were one-year-olds at The Nest, we took a collection from families and staff for Our House, a childcare center and support center for homeless children and their families. Mrs. Keli, Sam, Effy and I delivered the items before winter break that year. It was a gratifying experience for many reasons, but most of all because we value the work that Our House does for children and families who find themselves in difficult circumstances. 
These photos were from our delivery to Our House in 2013.
Fast forward a couple of years… Sam and Effy have grown quite a bit and we spend our days at The Willow School. However, we still look for ways to give back to our community and, most importantly, be positive advocates for children. We asked the families and staff of The Willow School to bring donations for Our House. The response from our wonderful community was overwhelming. Today we took two minivans full of a mountain of generous donations, four children, including Sam and Effy, and made a delivery to Our House. 
Sam and Effy, as the experienced children of the group, helped Joi and Jacob unload, push and pull our donations inside the center.  It took several trips back and forth to get all of the donations from the vehicles to the center.
Everyone was very helpful and kind and the staff at Our House was delighted to receive all of the goods we had collected. To continue their spirit of helpfulness, the children took turns pulling each other in the wagon back to the parking lot after our load was delivered.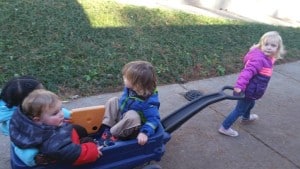 It was a delightful morning and it is always a pleasure to feel helpful in some small way. If you would like to continue to support the efforts of Our House please visit their website at www.ourhousega.org to find out ways that you can help.