This week we continued our exploration of how melting and freezing can change our creations. We began the week by melting the tiny crayon pieces we broken the previous week by using an electric skillet and wax paper. As the flat top heated up, friends took turns spooning the broken crayons onto the wax paper, As the crayon pieces began to melt, Casandra asked, "Why is it turning into water?" Dante responded, "See how it's getting waxy, that means it's getting really hot!" When asked what they thought would happen if we out it in the freezer Darcy responded, "It will freeze and turn into ice cube colors." 
   The added colored ice and hammers to the sensory table with ginkgo leaves inside the ice. They broke the ice up with hammers. On the same day, we borrowed a heat gun from Ms. Brandi and melted the crayons on paper. We sorted more colors to melt in layers in ice cube trays and made designs with the hard broken pieces on paper. As Macey melted her crayons she exclaimed, "Whoa!" Haper said, "It's melting really pretty." Emyrsen said, "It's turning colors!"
In the afternoon Ms. Susie brought in some tree roots. They melted the crayons onto the wood. Cassie was there to help guide the preschoolers on how to use the heat gun safely. She had used it earlier in the day and was so engaged in the process.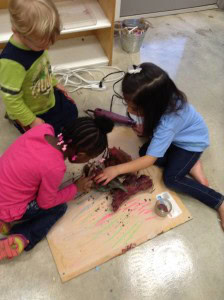 On Friday we continued working with the tree roots and crayons. We also made cornstarch and water color ice cube chalk. Because it was so cold outside the ice cube chalk would not make a mark on the ground so the children decided to bring it inside and melt it along side the crayon wax. 
More experimentation was done when the ice cubes and wax were mixed. 
Also a group of children played hospital. There were many sick patients to treat by Dr. Keoki and Dr. Ethan, "The bone doctor." Keoki said, "We have to smell their feel to check for germs!"