Feelings Chart
Inspired by the feelings chart we asked children to draw a self portrait reflecting their feelings. How we are feeling is often addressed when we solve conflicts with friends. We talk to children about respecting each others space. We ask the children to make an imaginary bubble around themselves, their personal space bubble. Sam drew a self portrait of his dog and drew a personal space bubble around him with the feeling of excited. This inspired other friends to do the same. 
Mystery Reader
Thank you Mr. James!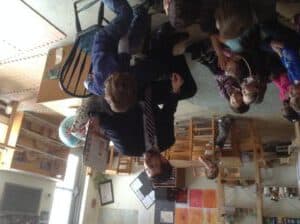 Car Painting
Children often choose the same activity when they have the opportunity to do so. They become experts of magnates, blocks and cars. They are scientist, experimenting and testing theories with how cars roll or building more elaborate block buildings each time. Sometimes we like to challenge children to work with new materials like paint. We brought the cars into the paint this week. This encouraged children who don't typically choose art materials to try a new way of experimenting, learning and playing. 
More Pics…