Hello Wonderful Infant Parents, 
This is our first blog of the new year, we have been getting back into the swing of things after such a long holiday break. We would like to thank everyone for the wonderful cards and gifts it truly made us feel special.  The Infant room would like to welcome four New babies to the class.  MillerTyson ( four months), Avery Franklin  ( four months), Greyson Downs( six months), Madeline Macquarrie ( six months) all of these wonderful infants have been adjusting well. 
Younger Infants 

Our first week back from break, we worked on building strong relationships with our new friends and their parents.  This week we continued our light and shadow thread, the babies love looking at the lights all around the room. We incorporated colored water in with our light and shadow thread. We placed them around the light table and on the floor . These activities kept the little ones very busy. The younger infants have been able to get outdoors and have been enjoying every moment of it. The babies have been on a stroll ride, playing in the sandbox, and eating snack outside. We have noticed while outside they have enjoyed feeling the wind on their faces as well. So on next week we will begin to explore wind and sound. 
Older Infants 
We had a WONDERFUL first week back after the holidays! We learned all about our new friends and we even learned some new things about our returning friends! Ellie and Juniper turned one and are now eating lunch and snack in our "outside cafe." While we welcomed Alicia, Everett, Rowan, and Kristofer to the older side of the classroom! We continued with our light and shadow thread and learned through exploration and play that everyone is ready to get MESSY so we are going to shift our focus to soil and mud!!! We of course, will incorporate light and shadows into our everyday activities as we begin our new thread. This week in the older infant room we are getting down and dirty, with soil! The infants were given the opportunity to explore the soil, sift and dump, and they were even given the opportunity to be little "Picasos" and make their own mud paintings! Mr. Louis visited our room and let us explore his guitar and he even gave us some singing lessons ;). We are going to further our exploration of soil and mud next week. We are going to begin planting our own Wheat Grass garden and we are going to look at some creepy crawly worms! We will also be making dirt pies with organic pudding and chocolate cookies ! Be on the look out for a permission slip email for your child to participate! Don't forget, Monday is a holiday so we will see you all Tuesday. 🙂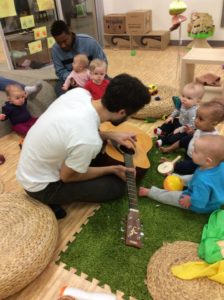 Sent from my iPad
Sent from my iPad