With International Week being celebrated at school this week our young infants were enriched in fascinating and interesting ways while the overarching focus was their individual identity. Songs were sung using their names and a photo collage was created for them to recognize themselves in the photo as well as tummy time in front of the mirror. The babies listened to a story being read in Spanish,  a lovely Ecuadorian guitar melody, and a pan flute song provided by Emilia's father. Oliver's mom modeled her traditional Vietnamese wedding dress in lovely splendor.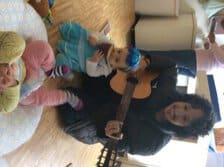 Last week the middle aged infants focused on photo/name recognition. Research shows that babies begin to learn about the connection between pictures and real objects by the time they are nine months old. Next week the middle aged infants will be focusing on a variety of activities to see what their new interests are. Those activities will help with hand-eye coordination, cognitive development, fine and gross motor skills, balance and coordination, as well as their language and direction skills.
 The older infants have been busy preparing for their International Parade this week. They have been painting and sticking, pressing and printing to create some of the flags of the countries of their heritage. These flags decorate our International Dragon (our twist on the Chinese Dragon) for our parade supported by the rest of the school. Next week we will be playing some games and role playing to encourage sharing, turn taking, and positive emotions.
Reminders:
Please check cubbies daily.
Remember to wash your hands and your child's hands upon arrival.
Provocations  tend to get messy; please consider bringing an extra change of clothes.