International Week
It was the Willow School's second annual International Week. Because the PreK class has been interested in flags and maps, we decided to start their when talking about the week. During a conversation during morning meeting, Hugo talked about visiting is grandparents in Sweden and riding bikes everywhere. He said in Sweden there are bike jams and not traffic jams. Friends were excited about this concept. Other children in class talked about other countries where folks road bikes like Germany and Canada. We looked at pictures of bike riding in these places. In Sweden the children were excited to see bike riding in the show. "Are we going to the snow?" Iyron asked? "How do you find your bike?" asked Joseph when looking at the bike lot filled with bikes at a train station in Sweden. 
Friends had fun decoration bikes and making flags for the parade on Friday.
Yoga
Each morning before morning meeting begins, we have began the routine of yoga. Yoga in the practice of being thoughtful and mindful in moving your body into different positions as you breath. We have some great kids yoga card that helps us get into positions step my step. Ask your child to demonstrate for you lizard, snake, triangle or tree.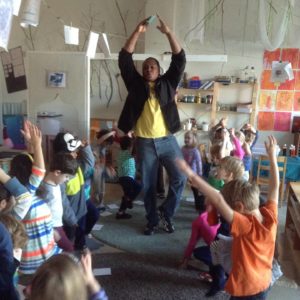 Mystery Reader
Mary Claire (August's mom) was our first mystery reader. Thanks to all the parents who have signed up. You have a 15 minute time frame to read so feel free to bring more than one book! If the time slot doesn't work for you please let Mr. Rob or Ms. Julia know so we can work out a better time.