February 1-5, 2016
Making Lasting Friendships
This has been another amazing week full of growth and development for th wonderful ones. This month we are focusing on Love and Empathy.  Our classroom community is strong and the bonds and connections we have forged with our classmates are some of the strongest our teachers have ever seen.  To help our little ones feel more connected to their school community, we are venturing out of our comfort zone and inviting opportunities to play with friends from other classrooms.   Here are some videos and images of our ones interacting with other classes on the playground.  The first image is of a birthday party we had thrown for "Darth Vader."  Some of the 2-year-olds began the conversation and our ones joined in with some preschool students to make cup-cakes and find candles.  We finished by singing happy birthday and blowing out our candles.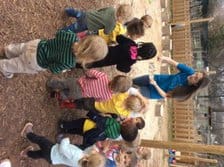 This next video is a play interaction that began when Julia and Elise sat down at a table outside.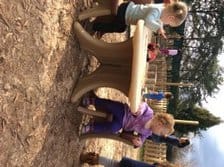 Students from Pre-K and Preschool began bringing Elise and Julie "food" made from sand and Elise and Donovan (from the 2-year-old) class began brushing the sand from the table. Jacob also makes his own appearance. 
On Friday the Preschool class invited us to their production of "The Billy Goat's Gruff'" We had a blast sitting with older siblings and playing on the stage before the performance.  
Next week we want to continue building these interactions.  We plan on making a thank-you painting to give our Preschool friends for sharing their performance with.  Also, the infant room has asked us to participate in their Chinese New Year Cultural Celebration on Friday, and we will also be throwing a Red and White pajama party on Friday for our other class friends to participate in as well.
Some Fun Literary Moments from this Week

Thanks for coming to read to us, and thank you Hazel for bringing some of your favorite books from home to share with your friends.  We are devouring stories right now, and we have shared some precious moments that your teachers will never forget.  Here is a short moment where Jolees spends some time reading to the class.
Reminders that next week is our Cultural Week and we can't wait to see what you have come up with to share with our wonderful ones and learn about their various cultures and backgrounds.  Friday we are having a pajama party so bring your little one to school in their favorite set of PJs.  The theme for our party is RED, WHITE, and PINK, so if you have any items at home we can use to decorate our classroom in these colors or items, games, or books we can use for our part, please bring them in.  
And now a funny face by Everett!!!