This week we had an enjoyable time exploring our senses. The senses that both the younger and middle group focused on was touch and taste.
The one-year-old infants focused on sorting and building using various materials.
Younger Infants:
The younger infants explored cold vs warm. They were fascinated with the "frozen treasures " and tried hard to retrieve the toys inside the ice. They also explored warm water by adding warm water to the sensory mat.
Middle Infants: 
This week the middle infants explored ice as well. We experimented with it in different sizes, shapes and flavors. The apple juice ice cubes were quite tasteful, and the cold feel of the ice in their mouths caught our babies off guard.  They also loved tasting the organic bananas and blueberries frozen in ice.  After a few days of ice exploration, we added a bowl of warm water with colorful pieces of paper inside.  We took turns moving our hands around the bowl and squishing the paper with our fingers.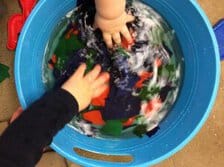 Older Infants:
The older infants focused on circles, balls, sorting and building. We had lots of fun with throwing and rolling balls into and through hoops. As well as pushing different sized balls and other objects through different sized holes. 
HAPPY BIRTHDAY  OWEN!!!
Owen turns the BIG 1 Saturday, 1-16!  We celebrated his birthday as a class today during our snack.  We are so happy to have been a part of this significant milestone in Owen's life.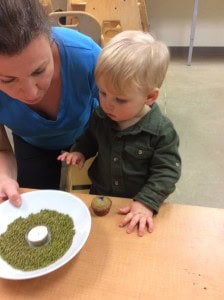 Next Week:
Next week the younger infant group will continue their sensory exploration.  They will be adding textures to their discoveries. The middle group will be bringing the outdoors into the classroom.  We are looking forward to observing the reactions the children will have viewing nature in a  different way.   The older infants will be introduced to lines using tape, chalk, and pipe cleaners. They will be playing games to develop relationships with each other as well as spending more time with their friends in the one's classroom.
Reminder:
No school on Monday.
Please check cubbies daily.
Remember to wash your hands and your child's hands upon arrival.