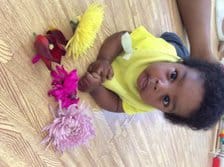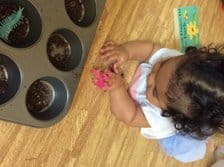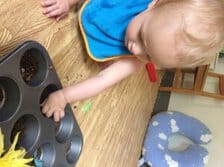 Young Infants 
The babies were presented with a tray of imitation bugs, soil, and a flower. What would they be attracted to? Cora wasn't sure she wanted to touch anything but after gathering her courage she went for the pink frog. Inez dove right in reaching for the pink frog as well. She went back for more dirt several times, squishing it in her hand and thoroughly studying it. 
There were many strolls outside through the neighborhood, taking full advantage of the beautiful weather. Other outside time was spent checking on the progress of the vegetable plants they planted last week. 
Next week we will revisit their favorite activities; water play, bubbles, and more.
Older Infants and young toddlers 
This week the older infants and young toddlers came into a revamped environment. We do view our environment as a third teacher, so we wanted to provide areas in the room that would really benefit and attract them. There was a stage with a disco ball hanging, that they took turns either dancing on or smiling at themselves in the mirror.  Also, Mr. Louis was kind enough to build a tunnel that many were playing peek-a-boo under. Our favorite change was the grass carpet. We have morning meeting under the tree every morning, while each infant/toddler has their own seat and have already noticed the routine when we say "Its time for morning meeting". They instantly run to their seat in excitement. We continues our explorations with flowers and planting. Early this week, we planted lima beans in cottons balls. They will be able to watch the lima beans sprout every day! Decatur City police officers were nice enough to come to The Willow School and read the children a story. Our babies were so engaged and we were so proud of them. On Friday, Mr. Louis came and did small group where the infants/toddlers were painting water on wood and slate.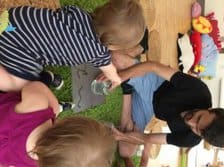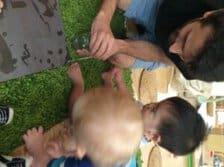 Mr. Louis is engaged in small group where they were able to paint water on wood and slate. This is something that the older children in the Willow School was able to experience so it means a lot that our babies had the same experience.
Next week we will continue on our explorations with flowers and planting.
Wednesday is splash day for the older class and we decided to join them! We will be finding ways to make splash day safe and age appropriate for our older infants. Please send them dressed in their water wear on Wednesday!
Reminders: 
With so many infants turning one, we are trying to get them all on the same schedule and ready for the next room. It is very important we start to get all the one-year-olds on the same nap schedule. With most of them on pods, there needs to be a teacher present in the sleeping room at all times. With everyone being on different schedules, it makes it very hard for that to happen. Here is a copy of the classroom schedule: 
Young Toddlers
7:30-8:30 Classroom Exploration
8:30-9:00 Creative Movement
9:00-9:15 Handwashing and preparation for snack
9:15-9:45 Morning Snack
9:45-10:00 Handwashing
10:00-10:15 Morning Meeting/Greeting
10:20-10:50 Outside time/Small group
11:00-11:15 Handwashing and preparation for lunch
11:15-11:45 Lunch
11:50-12:20 Story time/Calming our bodies
12:30-2:30 Nap (Early risers outside time)
2:30-2:40 Handwashing and preparation for snack
3:15-4:00 Outside on playground
4:00-5:00 Classroom Exploration
5:00-6:00 Departure and Goodbye time